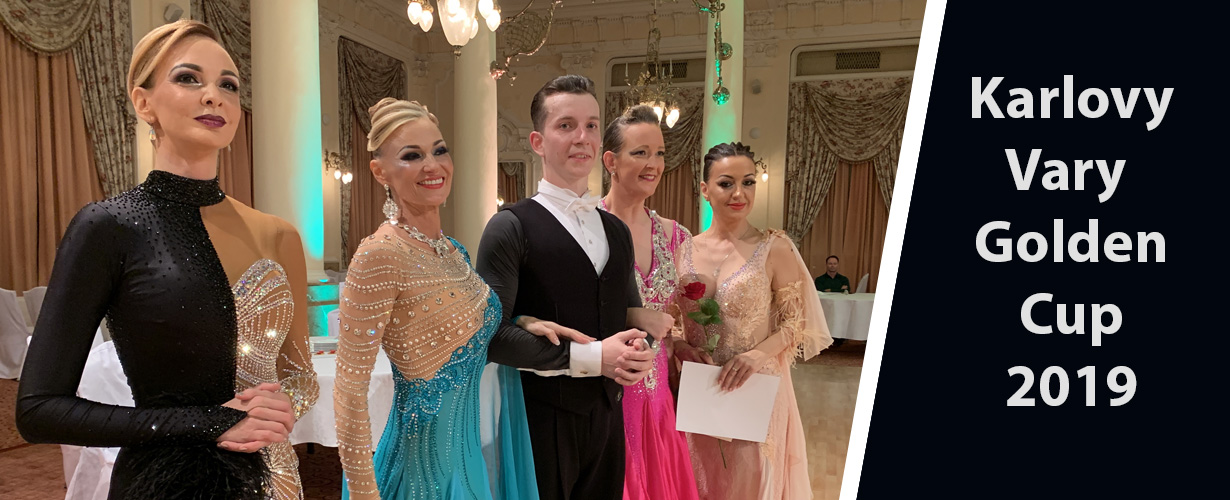 European Dancing Spring Break. Are you ready…?
Read about our trip to Karlovy Vary Golden Cup - International Pro-Am Dance Festival, 16 March 2019.
The Czech Lands, which are smoothly located in Central Europe, are popular not only by its unique Bohemia Chrystal but also the most visited spa town in the world, Karlovy Vary. This spring, the site of numerous hot springs has gathered lots of gifted DANCE professionals and amateurs to show off their talent and beauty, but mostly the dancing skills and passion. Once again, a dancing studio from Dubai, the UAE is internationally recognized to be the BEST from the best! Would you like to be the first to get all the details? Then keep on reading and exploring this tremendously challenging but definitely rewarding DANCING world with us!
Dance For You won the 1st place "Top Studio" award at Karlovy Vary Golden Cup 2019.
We are all quite different. We are all individuals. And the idea of dancing varies respectively. However, what unites us is that we all agree that dancing classes represent the healthiest pastime ever, both, psychologically and physically. Our fantastically talented Dance For You team is a perfect proof to that idea as well as many more reasons for enjoying life by means of elegant Ballroom or sparkling Latin-American dance shoes! And as an incredible BONUS dancing lets us make lifetime friends, travel around the world, overcome new and new challenges, and constantly work on our self-development.
A few days ago, Karlovy Vary, a heart of the Czech Republic felt all the warmth and a pretty competitive spirit Dance For You studio brought from sunny Dubai, the UAE which, in the truest sense of the word, resulted in all the diplomas, top places, trophies and certainly a Golden Cup granted to our elegant, fabulous and surely amazing students: Ute Kuras, Kathryn Povall, Olga Krasota, Chikky Sirish, Sabreen Abusabaa and Rebecca Dibble. Two professional dancers, instructors and simply nice people, Dmytro Zaiats and Sergii Tymchenko, have inspired these ladies to make their presence felt in both, Ballroom and Latin-American worlds on the international level. And believe us… they meant and made it!
Only for one day a crystal clear, spacious dance floor of Grand Hotel Pupp turned into a multicultural venue with extremely high level of emotions, feelings, energy and talent from all around the world. Only for one day, two absolutely different but totally complementary dancing styles, Ballroom and Latin-American, let Dance For You studio once again come into the spotlight at its best and get recognized as a TOP INTERNATIONAL DANCE STUDIO. Top places, numerous entries, even a dance scholarship pave the way for the most aspirational and prestigious Blackpool Dance Festival… to be conquered… pretty soon… not for the first time!
Sabrine and Dmitriy @ Karlovy Vary Pro-Am 2019.
Ute and Sergii perform Slow Waltz @ Karlovy Vary Pro-Am 2019.
Kathryn and Sergii Sabrine and Dmitriy - Rumba @ Karlovy Vary Pro-Am 2019.
Chikky and Dmitriy - Cha cha cha @ Karlovy Vary Pro-Am 2019.
Luckily, every single dance journey is usually marked by lots of FUN: a challenging dance competition but always fantastic results (cause all the effort are surely paid back), an unforgettable experience and a fully enjoyed quality time, new WORLD discoveries in overall. No wonder, amazing students from our enormous dancing community are always eager to join us in these worldwide outings. We even claim to say it replaces a vacation time in a certain way. It does make sense cause you are constantly surrounded by people who are on the same DANCE wavelength with YOU!
Utterly exquisite architecture, spring strolls and national Czech cuisine impressed and made us want to come back to Karlovy Vary someday! But for the time being Dance For You team is more than happy and keen on exploring the world further, dancing its journey all the way through. Come and join us, you are more than WELCOME to explore all the colours of dancing with Dance For You studio!