No dancing, please! How COVID-19 affects our Dance Life?
Quarantine and isolation measures caused by COVID-19, a coronavirus from Wuhan, China, restrict all social activities and education, including dancing, in all countries around the world. How to keep your dance skills and how to dance during virus pandemic? Let's figure this out together below.
The Virus
The COVID-19 is an abbreviation for coronavirus disease, an infection discovered in December 2019 in a city of Wuhan, China. The full name of the virus strain is called SARS-CoV-2, a severe acute respiratory syndrome coronavirus 2. As the name suggests, it's the second version of the SARS coronavirus (SARS-CoV), its outbreak was first identified also in China: city of Foshan, Guangdon in November 2002. At that time, it took 2 years to contain the SARS-CoV. Could it take the same amount of time for the current COVID-19? Unfortunately, it's impossible to predict because these two versions of the virus, despite of the fact they share almost the same name, country of origin and classification, are different and the current pandemic has already caused much more confirmed disease cases worldwide.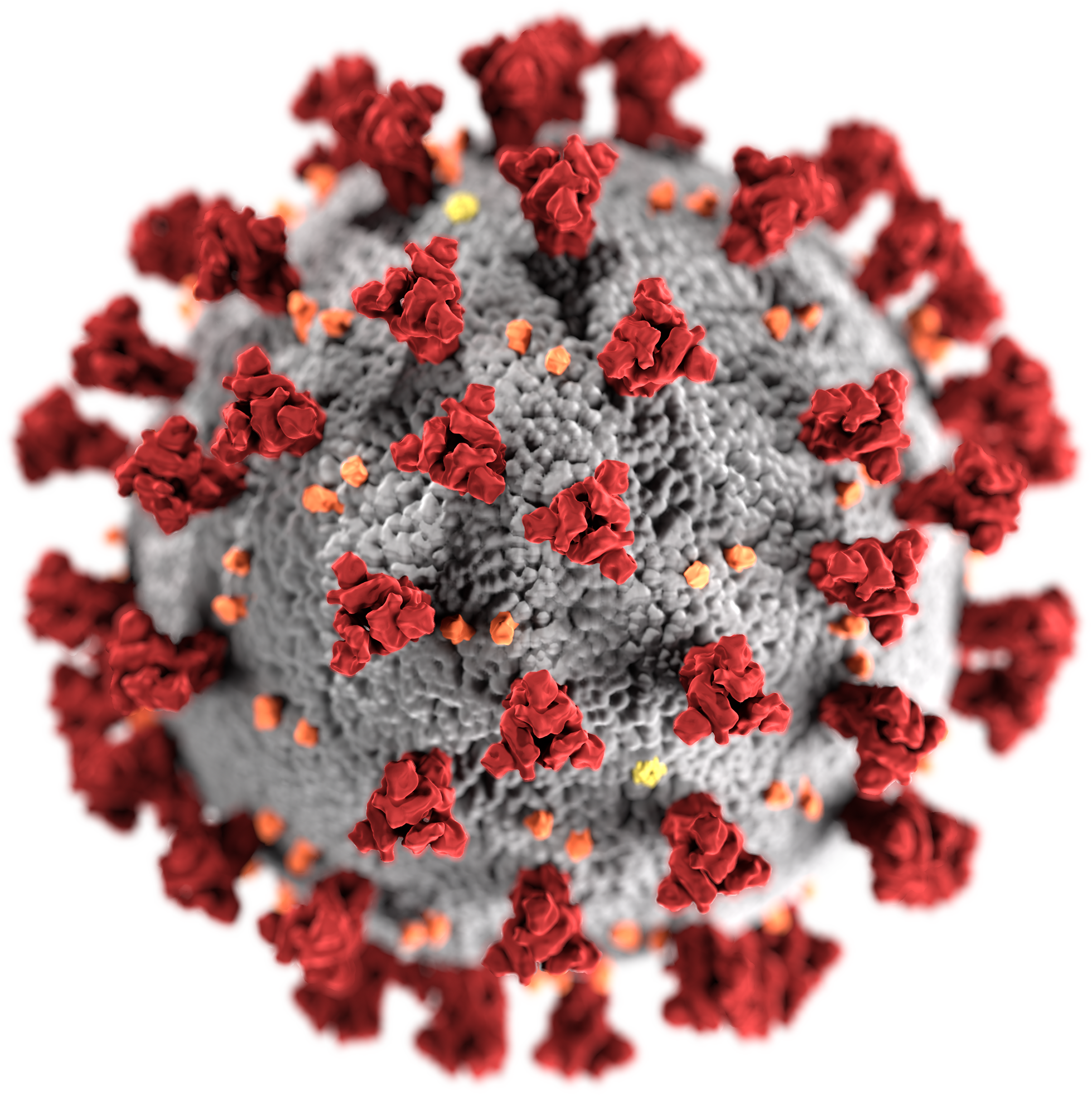 Illustration of COVID-19 virion. Visually it's decorated with spikes which makes it resemble the solar corona, therefore scientists decided to name it as "coronavirus".
Historically there's another type of coronavirus that affected nearby countries of the UAE. It's MERS-Cov, a Middle East respiratory syndrome also known as camel flu where humans are typically infected via the contact with camels and camel products. This virus was first identified in Saudi Arabia in 2012. As of 2020, there's still no vaccine from this type of virus. According to the World Health Organization there have been 74 disease cases reported in the UAE. So, COVID-19 is not the first type of coronavirus that infiltrate our country. According to the measures established in many countries including the UAE, the new COVID-19 is the most dangerous among all the other known types of coronavirus.
Is Dancing Prohibited?
To avoid a super-fast spread of the infection and try to restrain the virus, most countries, including the UAE, have implemented special rules of behavior called social distancing. The primary goal of it is to avoid close contacts with other people, to keep distance of 2 meters or more between you and other people, and follow the rules of isolation or quarantine. In such conditions all public places except emergency and First Aid services are closed, group entertainment and sport activities are forbidden. To put it simply, "just stay at home".
Probably it's the first time when people face with biological hazard. Now there are many talks going on how to protect oneself from the virus: how efficient the respirators and masks, gloves and other items of individual protection are. The history has an interesting and shocking story of London during the Second World War. Gas attacks were something that people were afraid of and tried to protect themselves from. Thus the full-face gas masks and even special containers and helmets for babies were developed. See the photos of historical images below.
All digital images courtesy of the Getty's Open Content Program.
The British dancing in gas masks.
Gas masks represent something we are used to seeing in movies or fiction books about the post-apocalyptic future. And the images above look unnatural, terrifying and unbelievable nowadays. Surprisingly but the respiratory masks of today are much more comfortable, but hopefully we all will soon return to our normal way of life without the need of wearing any masks at all.
How and where to dance during COVID-19 in Dubai?
Dance clubs, dance studios and schools are closed till September 2020 in Dubai. All dance festivals, parties, dancing contests are either cancelled, postponed or rescheduled till the situation gets better and the virus hopefully be vanished. Dancing is a social activity, and generally one needs a partner to dance with. It's true for all social and ballroom dances. However luckily there are solo dances that may become popular during the period of isolation, for example, step dance, belly dance, twerking, street dances, such as Popping, Locking and many others. As for the ballroom dancing one can practice it by improving one's own personal skills like foot work or arm styling.
Dubai dance school follows all the local regulatory compliance and currently does not provide traditional face to face dance classes, practice sessions and all other types of activities at our location. But we encourage you to keep dancing at home and perform workout exercises. Our dance teachers and instructors record dance videos for you that aim to provide assistance in preserving your dance skills and keep you in a good physical shape and condition. These videos are made in format "watch and repeat after me". Some of them are below. An up-to-date playlist is available at our YouTube channel. Please, join it and subscribe to get notifications about the new content and don't miss our new videos! We will continue to develop and provide new content for making your stay at home more comfortable.
Learn the lady's styling dance moves
Rumba foot steps lesson
Improve your dance turns
The solo dance moves
Feet exercises
The Cha-Cha moves
Salsa foot work lesson
Online Dance Courses in Dubai
We already discussed the online dancing in our blog. So, how is it applicable to the current situation?
Inability to take traditional dance lessons leads to the boost in the area of e-learning and online courses. But dancing is a creative form of art that requires not just theoretical knowledge, but also the most important part – practical classes which are an essential key training to become a real dancer.
Dance For You studio in Dubai is working hard to prepare a new full-fledged online educational program for you. It will be a complete high-quality online course that will help you to master the ballroom dancing during the COVID-19 pandemic. We will provide a distant support and training for our students and do our best while using the online tools and methods available. You can still continue enjoying dancing and music even during this period of quarantine and isolation. A demo trailer of our online education is below.
Professional Online Dance Classes Trailer.
Please, follow us at social medias below to be informed about any updates from us: Facebook, YouTube, Instagram. Our dance facility is temporarily closed, but we are still available for you remotely, you can contact us and we will be glad to see everyone at our online dance lessons. If you're not a student yet, please, sign up now.
We wish you a pleasant stay at home!
With Love,
Dance For You studio
Other articles you may like: