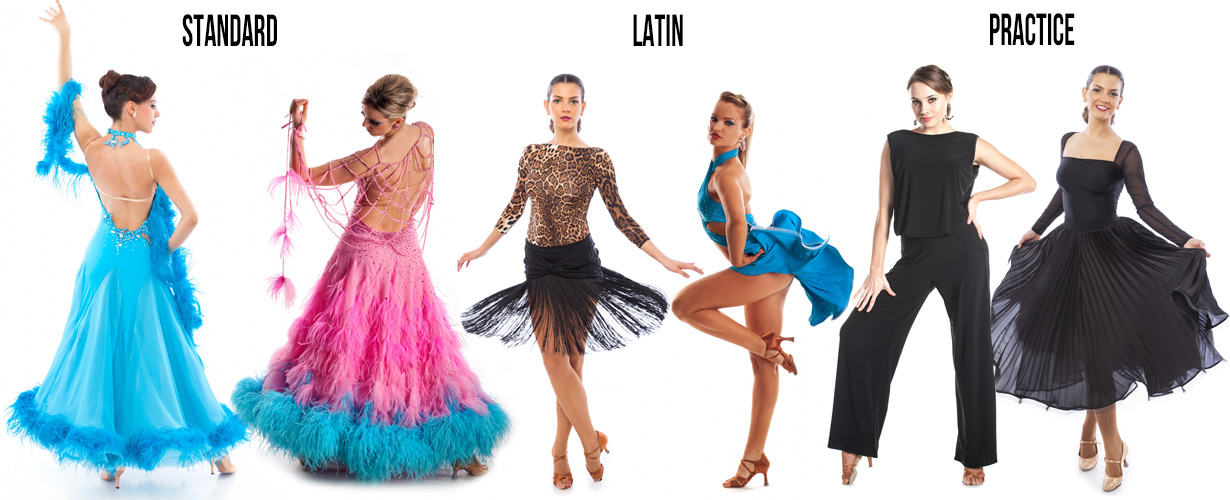 Female Dress Code for Ballroom Dancing
The right outfit makes any dance look better: it underlines the body movement and makes dancing more comfortable than in regular dress. Besides, there is a specific dress code for ballroom dancing, especially if you take part in dance competitions. Below is a guide for women's ballroom dancing clothes. We will answer to common questions what to wear, differences between low-level and advanced dresses, how to choose dress for specific dance competitions.
General Facts
There are some general recommendations for the outfit, however, for professional performances and competitions the dress code has some strict rules that depend on a program such as International Standard/Latin, American Smooth/Rhythm (read more about ballroom dance competition standards).
The women dress for ballroom dancing can be grouped by the number of elements:
a 2-piece set, e.g. a skirt and a shirt. Usually this set is applicable only for newbies or practice sessions.
One-piece set is more professional, fashionable and comfortable for dancing. Besides, such dress has more room for embellishment, custom designer's patterns and styles.
Another classification for the dress depends on its style: a simpler dress without decorations is suitable for practice, when more fancy dress with sophisticated design and rhinestones is considered more professional and is the best choice for competitions.
The color of the clothes can be different: blue, white, red, green, pink and others, or mixed color. Often a dress contains skin colored fragments (especially on the arms, back and neck area) that give illusion of transparency, cut-outs or décolleté. However, actually the dress covers the whole body.
Outfit for International Standard and American Smooth
Both programs include almost the same list of dances: Waltz, Viennese Waltz, Tango, Quickstep and Foxtrot (read more about ballroom dances classification). The rules for the dress are the same for all these dances.
Basic Women's Dress Code for International Standard and American Smooth
A two piece set (a skirt and a shirt) is alternative outfit suitable only for low level competitions.
A full ballroom gown is a standard dress for ladies. Basic dress is usually solid colored and quite simple, without patterns, decorations, etc.
The dress for ladies is generally a long full gown. Alternatively, a 2-piece combo (shirt and skirt) is suitable for low level competitions. The style of basic dress is simple and lacks many of the embellishments designed to look elegant and pretty, e.g. gloves and floats.
Advanced Dress for International Standard and American Smooth
Advanced gown has a more sophisticated design with different embellishments.
The gown can be solid or multicolor, can have feathers, rhinestones to look more luxurious.
Advanced dress for International Standard has more decorations to look more luxurious and glamorous. Such dress can have floats, gloves, rhinestones and sometimes feathers. These dresses are classical in style, with long and fluffy skirts.
Advanced dress for American Smooth is a mixture of the Standard gown and the Latin dress. They are generally full length dresses without fluff to the skirt. They lack floats, to allow for solo spins with the arms.
Outfit for International Latin and American Rhythm
These programs include SambaSamba, Cha-Cha-Cha, Rumba, Paso Doble, Jive, East Coast Swing, Bolero and Mambo. The dress code is more open, sexy and passionate in comparison to the International Standard and American Smooth traditions. Women have a choice to wear a 1-set (one-piece dress) or 2-set clothes (separated top and bottom). It's usually a short dress or a mini skirt. The main idea of such dress is to draw attention to body movement and leg action of the dancer.
Basic Women's Dress Code for International Latin and American Rhythm
The dress is shorter than Standard/Smooth dress. Basic dress can be a short solid gown.
2-pieces sets (shirt and a skirt) are also allowed.
The dress is generally shorter than Standard/Smooth dress and is intended to show off the legs. Sometimes, the dress may be long, but in this case it usually has a slit in the back so you don't catch your heel in it. Besides, such dress often has a skirt or frills on them that will exaggerate hip and body movement, complementing the dance.
Advanced Women's Dress Code for International Latin and American Rhythm
Advanced dress is more sexy and extravagant.
Rhinestones and other embellishments are used. Often the dress has fragments of body color that give illusion of transparency and being partially naked.
Advanced Latin dresses are expected to be more extravagant and fancy than basic dresses. Heavy rhinestones are often used, but some dresses use less rhinestones to allow a dress to flow more freely.
The Shoes for Dancing
The shoes are probably the most important part of the dancer's outfit. The shoes provide contact between the dancer's feet and the ballroom floor. Leg action play a very important role in dancing and can be very intensive. Therefore, it's vital to have a comfortable and safe shoes to avoid possible accidents or discomfort during the dance. For dance competitions the style of the shoes must match the rules. Click here to read more about the shoes.
Dress for Dance Practice
The dress for practice is simple yet is very comfortable and allows to perform any dance figures. Usually it's a gown or a skirt and a shirt combo.
Sometimes trousers are used instead of a skirt.
A dress for competitions is usually too fancy to wear for casual dance classes. There is a special dress category for dance practice. Such dress doesn't have any decorations and is very comfortable for dancing: you can do freely even the most complicated dance moves without fear of tearing or damaging the dress. Usually every dance shop provides several types of such dresses. For ladies a practice dress can be a full or medium length gown, a shirt and a skirt combo. Sometimes a skirt shorts are used. Besides, trousers instead of a skirt are also popular. It's fine to practice in casual dress, too. But you should make sure that such dress doesn't immobilize your moves or it won't damage if you do some complicated dance figures.
Dress Code for Girls
Children wear the same dress as adults. They only difference is that kids have a smaller dress size.
Examples of Women's Dress for Ballroom Dancing
We prepared some photos of various dance clothes for adult women and girls designed for International Standard (American Smooth) and International Latin (American Rhythm). The photo gallery is below.
Our Dance Studio is Ready to Guide You
Our dance studio provides various dance lessons and dance classes for adults and kids. We prepare our students and participate at different local and international dance competitions and championships. Apart from tutoring, our dance instructors are ready to share different information and useful tips regarding the dance clothes, shoes and the dress code. We will gladly give you an advice about shops that sell dance clothes and accessories in Dubai, can help you to choose the most suitable brand and outfit. Don't hesitate to contact us and see you in our dance studio in Dubai!