Male Dress Code for Ballroom Dancing
There is a specific dress code for ballroom dancing, especially if you take part in dance competitions. The Dress code is defined by the regulation body: World Dance Council (WDC), World Dancesport Federation (WDSF), etc. Below we will answer to common questions what differs a dance clothes from their regular prototypes, how to choose men's dress for ballroom dances and what to wear for practice and dance competitions.
General Facts
The Dress code is unique for different programs (Foxtrot (read more about ballroom dance competition standards). The fabric for the clothes can be different to make the dress more elastic, stretchable or robust. Besides, the clothes can have various decorative elements that can make the dance more exciting. Usually all the dress specifically designed for dancing, can be described as follow based on the appearance aspect:
Very simple - this dress doesn't have any decorations, and because of its simple design it may not look as attractive as other dresses. Such dress is best for practice and usually it's much cheaper than the dress designed for competitions.
Basic - this dress looks much better and looks almost as attractive as fancy dress (see below). This dress can be considered to be a "mid-level" dress or dress for beginner dancers, because it's a cheaper alternative of the high-end dress that can be used for the start when an amateur dancer wants to cut down expenses. Such dress is usually fine for the entry level amateur dance competitions.
Fancy - it's the top class high-end sophisticated very attractive dress. It's the best option for dance competitions. Professional dancers wear such dress at dance championships and you may usually see this type of dress on TV, e.g. if you watch "Dancing with the Stars" show or dance competitions. It's also recommended for amateur dancers to buy this type of dress for serious dance competitions: the dress looks chic, glamorous and luxurious, and of course very comfortable for dancing. Obviously, such dress is much more expensive than others.
The International Standard and American Smooth
Both programs include almost the same list of dances: Waltz, Viennese Waltz, Tango, Quickstep and Foxtrot (read more about ballroom dances classification). The rules for the dress are the same for all these dances. The clothes should match to what is called "white tie" dress code: a full gown for ladies and bow tie and tailcoat for men. However, there are some differences between standard gowns and tailcoats and their versions for dancing. Let's examine the details of the ballroom dancing dress code.
Basic Men's Dress Code for International Standard and American Smooth
Men Shirt
A basic shirt for wearing without a tailcoat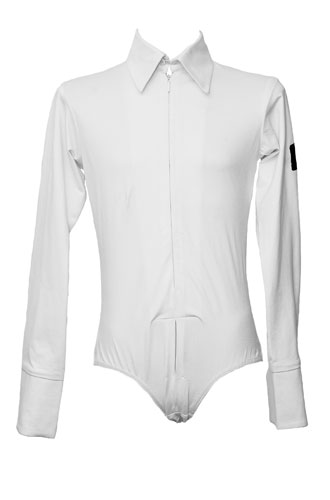 Men's shirt is actually a leotard with built-in pants
Actually men dancers should wear a tail suit, however sometimes beginners prefer a simpler and cheaper alternative - a basic standard shirt. It must be a white colored long sleeved "classic style" shirt with collar and cuffs. For Standard Program the shirt must be solid without patterns or reflecting insets. For American Smooth some ordinary barely visible texture is allowed. The dress code requires the dancer to do up all shirt's buttons, carefully tuck it in, rolled up sleeves are not allowed. A shirt must be worn with a bow tie; extra accessories such as luxurious cufflinks or shirt studs can level up the attractiveness of your outfit. The shirt designed for dancing is not actually a shirt, even if it looks as one. A dance shirt is a leotard that has a built in shorts at the bottom or straps around between the legs. Such approach guarantees that the shirt will always have a perfect look and stay smooth, won't scrunch up, even if you do complicated dance moves.
Men Pants (Trousers)
Straight normal-waist black pants without stripes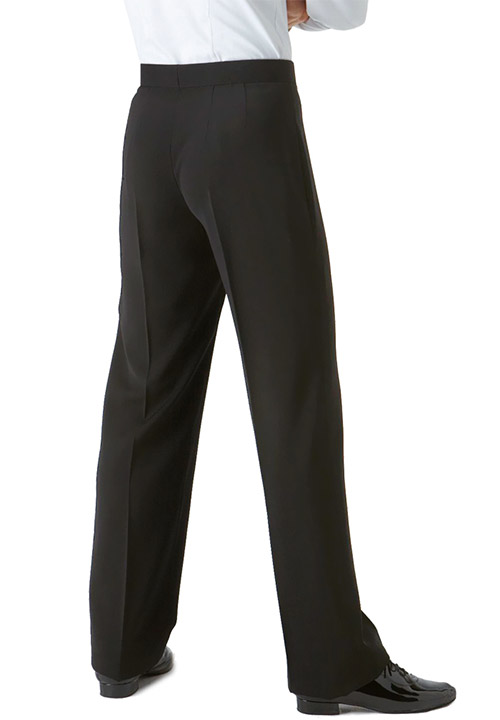 Pants have a special cut to look freshly ironed
There is no difference between the pants (trousers) for International Standard and American Smooth. The pants should be pure black straight legged and have austere style. The satin stripe and waistline are usually missing. Some models of pants have belt loops. The pants have normal rise waist, which is lower than pants worn with tail suits. One of distinctive features of the pants is their fresh recently ironed look that is achieved because of a special sewed-in.
Vest or Waistcoat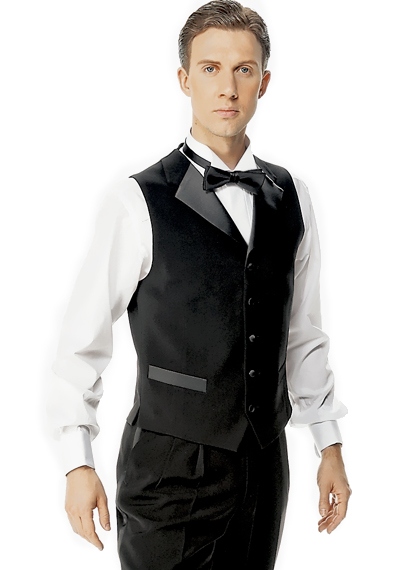 A vest is usually black
It can have different design and can be worn with a necktie or a bow tie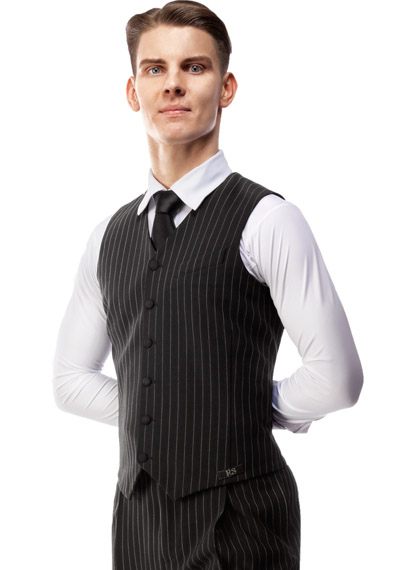 In American Smooth a vest can be more creative, for example it can have vertical stripes
In American Smooth a dancer can sometimes wear a cardigan or a pullover instead of a vest
Vests (also called waistcoats) are optional elements of the dancer's wardrobe. Dancers often prefer wearing a vest as a simplified alternative if they lack a full tail suit. The dress code for International Standard requires the vest to be solely black, while for American Smooth it is allowed to match the color of the shirt. Besides, it is not restricted to wear a cardigan or pullover instead of a vest, but it went out of fashion nowadays.
Bow Tie and Necktie
A bow tie can be black or white in International Standard.
A necktie can be only black. However, In American Smooth both a necktie and a bow tie can be of any solid color.
Usually a tie is attached using a velcro.
Other types of fasteners are also popular.
A tie is a must have accessory both in International Standard and American Smooth. All types of tie are allowed, e.g. a bow tie or a necktie. The International Standard dress code states that a bow tie may be black or white, while a necktie may be only black. The American Smooth is less strict and allows the ties and bow ties to be of any solid color (not multicolored). There are no special versions of ties for dancers: regular bow ties or neckties are used that are available for purchase in a standard shop that sells men's clothes. However, when buying a tie, you should keep in mind that it supposed to sit fixed and reliably around your neck while dancing. It depends on the way you will bind the tie: most dancers prefer pre-tied models with clip or velcro on a back as a fastening mechanism that reduces the possibility of the tie to become undone.
Advanced Dress for International Standard and American Smooth
Men's Tail Suit (Tailcoat)
A tailcoat is worn with a tail shirt, vest, pants, white bow, pocket handkerchief, cuff links and shirt studs.
A tailcoat for dancing is pure black and is different from a regular tailcoat: the sleeves are straight if the dancer moves the arms aside.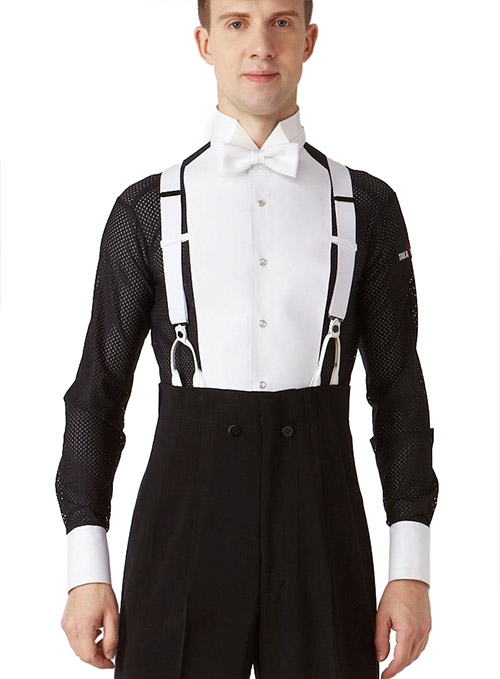 The pants of the tailcoat are pure black with high-waist style.
The pants usually have white suspenders attached.
In International Standard, a tail suit (sometimes called tailcoat) is considered to be a core element of a fully-fledged professional dancer's costume. The tail suit is necessary at high level competitions. In American Smooth, a dancer sometimes is allowed to wear a regular suit instead of a tail suit, however, it's not recommended. A tail suit for dancing is different from its regular version. A tail suit for dances should have a special cut, so that the shoulders stay at the same level when a dancer raises his hands aside. The pants are of a high-waist style that reach the bottom ribs. The color of a tail suit is limited to pure black, but sometimes it can be dark blue. Dancers wear the following accessories with a tail suit:
a white bow tie (wearing a black bow tie or a regular tie is also fine, but not common)
cufflinks
shirt and collar studs
white handkerchief for breast pocket (usually it's built in the waistcoat)
Men's Tail Shirt
A tail shirt can have a built-in or separately attachable collar and should be worn with cuff links and shirt studs.
A tail shirt is divided into two areas: visible is always white, the invisible of any color, because it is never seen and is covered by a tail coat.
A shirt for dancing is actually a leotard with built-in shorts or pants.
Such design makes the shirt always look straight and smooth even when doing dance moves.
It's a special shirt designed to be worn with a tailcoat. Every shirt has two colors: one of them is always white for cuffs and breast, another is arbitrary because it will be invisible covered by the tail suit. Usually a tail shirt doesn't have buttons and requires wearing shirt studs. Most models of shirt don't have a built-in collar, so a separately attachable white collar is required. A tail shirt is not a shirt technically: as all other shirts used in ballroom dancing, it's a leotard with built-in pants in order to achieve a perfect smooth and straight appearance even if a dancer makes complicated moves.
Men's Waistcoat
A vest is always white and adds a more stylish look. Actually a vest is just a small piece of fabric that peeps out from under the tailcoat.
It's a clever approach that allows to keep the whole dress set light, comfortable and avoid feeling hot.
A waistcoat is always white. But it's not a regular vest: it's just a small bottom part of it that is attached to the front under the tail suit making an illusion of a full vest. Such ingenious trick allows to achieve a handsome look and at the same time it removes unnecessary fabric to avoid temperature overheat and preserves freedom of body movement.
Collar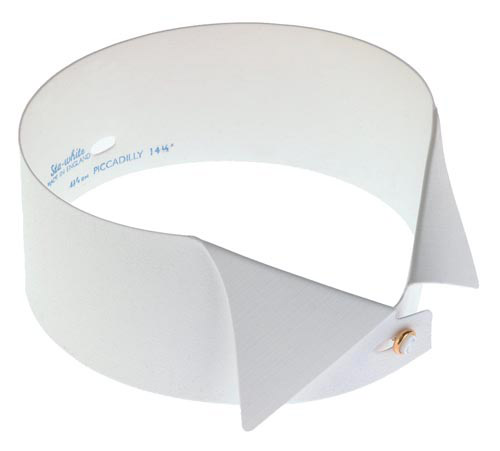 Collar is always white and is usually attached separately to the shirt.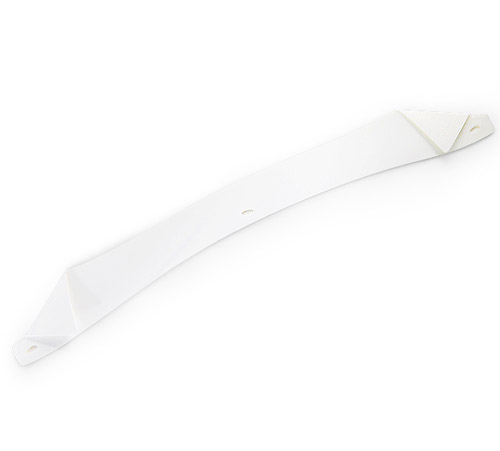 When removed a dedicated collar becomes flat making it easy for putting it in your luggage.
Most tail shirts come without built-in collars. In this case a separate collar is required. The collar must be pure white and match the tint of the tail shirt. A separate collar is better, because it's safer to move in your luggage without being tumbled or squeezed and it can be securely attached to the shirt using a collar stud.
Advanced Dress for American Smooth
Dress for American Smooth Style is similar to International Style. However, it's conventional for the men to abandon the tail suit in favor of shorter tuxedos, vests, and other creative outfits at American Smooth.
Suit
Suits can be used as a dress for American Smooth. The suits have also a special cut that differs them from the regular suits.
They suits are usually black and are worn with a tie and optional pocket handkerchief.
The suits in this case are not regular: they are longer and slimmer, have a special cut, so that the shoulders stay at the same level when a dancer raises his hands aside. There are no limitations to the color of the suite, however, black, dark grey and dark blue are most common.
The suit dress set consists of a jacket, pants, shirt, long tie, cufflinks, and an optional pocket handkerchief.
Accessories
Cufflinks
Cufflinks can be of different form and size. Usually they are golden, silver or platinum.
Cufflinks may have a very attractive look.
The cufflinks are used instead of buttons to join the cuff parts of a shirt together. The cufflinks are considered to be jewellery items and are made of precious metals decorated with gems.
Shirt Studs
Shirt studs are usually sold in a set with cufflinks. The shirt studs are used instead of buttons.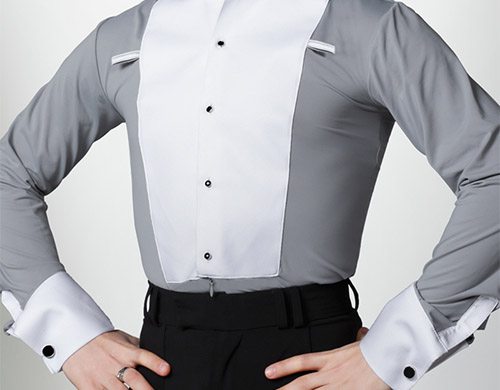 A shirt for ballroom dancing with shirt studs and cufflinks.
Some shirts don't have buttons. In this case you need to use shirt studs to button up the shirt. Shirt studs can be considered as glamour variants of buttons. Like cufflinks the shirt studs are made of precious stones and usually you can buy a set of shirt studs with cufflinks that match each other.
The International Latin and American Rhythm
These programs include SambaSamba, Cha-Cha-Cha, Rumba, Paso Doble, Jive, East Coast Swing, Bolero and Mambo. The dress code is more open, sexy and passionate in comparison to the International Standard and American Smooth traditions. Women have a choice to wear a 1-set (one-piece dress) or 2-set clothes (separated top and bottom). It's usually a short dress or a mini skirt. Men usually wear tight trousers and shirts. The main idea of such dress is to draw attention to body movement and leg action of the dancer.
Basic Men's Dress Code for International Latin and American Rhythm
The Shirt
Latin shirts are usually sexy and open.
Latin shirt only looks like a shirt, it's really a leotard that makes the shirt always look tidy and straight.
A shirt may have a turtle neck.
A shirt can have various styles and colors.
A basic Latin shirt has full-length sleeves and sits tight on man's body. The color of the shirt is black or white, the fabric is light without patterning or reflective materials. The shirt may have a polo neck (also known as a roll-neck, turtleneck or skivvy), otherwise a shirt is opened to mid-chest or lower. All shirts for ballroom dancing are actually leotards, because it helps to keep the shirt always tucked and neat even if a dancer moves a lot. The same is true for Latin shirts.
The Pants (Trousers)
The pants are pure black and have a sewed-in to look freshly ironed.
The pants may have a vertical stripe on outside of each trouser leg and on a waistline.
The pants are solid black. An optional vertical satin stripe is sometimes located at the outside of the leg or a satin waistline. They also usually have a sewed in seem down the front to make them look recently ironed. Latin dances are very active and to avoid expose of a leg during dancing, the pants can have an elastic band that wraps around the foot.
Advanced Men's Dress Code for International Latin and American Rhythm
The difference between basic style and advanced is only in the shirt.
The Shirt
A shirt can have different texture, patterns and can even be semi-transparent.
Some shirts can have reflecting rhinestones to shine bright.
Advanced Latin shirt looks more fancy than basic Latin shirt. The shirt usually looks shinier and brighter. It may have various design and is often decorated with light reflective rhinestones. The price of the shirt depends on its compliance with latest vogue, refined and unique design, etc.
The Shoes for Dancing
The shoes are probably the most important part of the dancer's outfit. The shoes provide contact between the dancer's feet and the ballroom floor. Leg action play a very important role in dancing and can be very intensive. Therefore, it's vital to have a comfortable and safe shoes to avoid possible accidents or discomfort during the dance. For dance competitions the style of the shoes must match the rules. Click here to read more about the shoes.
Dress for Dance Practice
A dress for competitions is usually not comfortable and easy enough for everyday life. It's much easier to wear more simple dress for dance classes and dance practice sessions. There is a special category of clothes called "Practice Dress" available at shops. Such category exists both for clothes and for shoes. Practice dress is usually without decorations, comfortable and allows to do various dance moves. It's fine to practice in casual dress, too. But you should make sure that such dress doesn't immobilize your moves or it won't damage if you do some complicated dance figures.
Dress Code for Boys
Children wear the same dress as adults. They only difference is that kids have a smaller dress size.
Examples of Men's Dress for Ballroom Dancing
We prepared some photos of various dance clothes for adult men and boys designed for International Standard (American Smooth) and International Latin (American Rhythm). The photo gallery is below.
Our Dance Studio is Always Willing to Help
Apart from giving dance lessons to you, our dance teachers are always ready to give you some advice about what dress and shoes to choose for practice or dance competitions. We know what offers are available on the market, the benefits of each brand, and can give the answer to the question where to buy dance shoes and dance clothes in Dubai. We give some tips how to take care of the dress and shoes and can guide you through the vast area of sales offers, so that the whole process will be easy and you can focus on the dancing. Don't hesitate to contact us and see you in our dance studio in Dubai!
Other articles you may like: