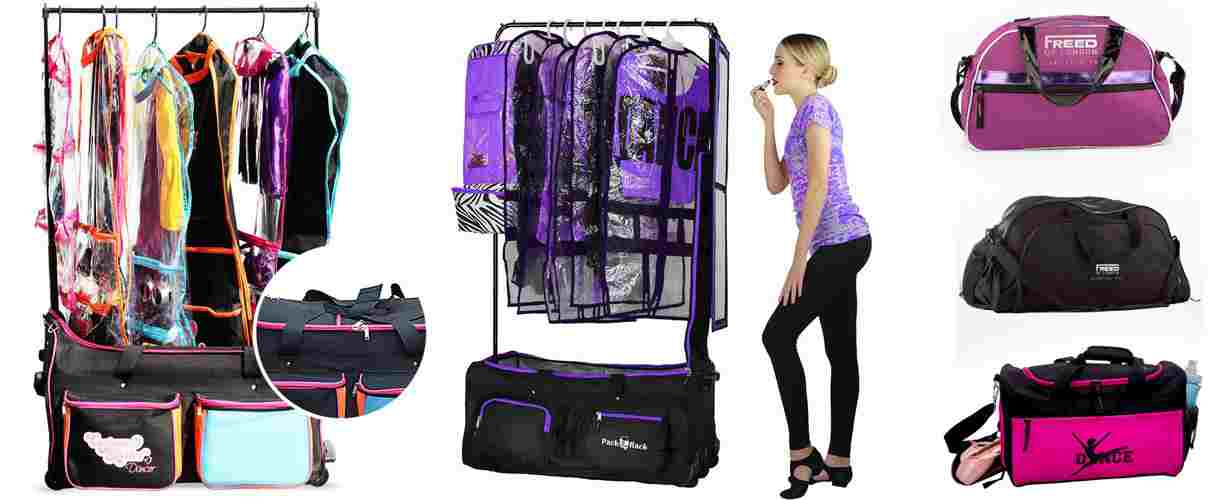 Dance Bags Guide: Models, Brands, Recommendations
Everybody knows that there are special bags and suitcases for smartphones, tablet PCs and photo cameras. But there are also specialized or professional bags for dancers, no matter if it's ballroom dancing or not. Their special design offers many benefits for the dancers. Below we will analyze different dance bags and will give some recommendations how to choose the best dance bag and how the dance bags differ from their casual prototypes.
Benefits of Professional Dance Bags
What are the benefits of possessing a specialized dance bag?
Extremely comfortable. The bags are adapted to make your life easier. They are designed expressly for dancers keeping in mind all situations that may happen, things that dancers usually wear and put inside the bag, etc. Such bags are handy and have a well-thought out logic of internal structure, ergonomic design and contain different pockets or sections for dance shoes, dance dress, accessories, etc. Some models suggest you to be creative and allow to construct the inner space of the bag using detachable partitions. It can make the bag even more flexible and adaptive to the contents it holds. Either you visit ballroom dance lessons for seniors or enjoy a dance party or travel to international dance competition, such bag is the best choice.
Optimal size and weight. Professional dance bags allow you to hold as much things as possible according to the bag's dimensions. Engineers invent and develop the bag to make it optimal, so that all your belongings can fit into the bag, and at the same time there will not be any unnecessary extra space left. Such approach allows to reduce size of the bag and its weight making it a very effective and convenient product. To gain maximum benefit from this feature, you should choose a bag model that accurately matches your "use scenarios", e.g. compact "everyday" or "practice bag", large bag for travelling, hand luggage or cabin baggage that satisfies the official size and weight requirements of airline companies, etc.
Stylish design. A bag usually has a nice-looking appearance and form that adds some extra pleasure to possess it. Some products may focus more on design by implementing eye appealing patterns, fancy elements, mixing valuable fabrics, etc.
Highly tailored. Generally, the bags are not hand-made and are produced in a manufactory or atelier using standard automated methods. However, all the items are created with care and accuracy that results in a fine high-quality end product. Having a professional bag implies to have a professional quality and warranty, too. Many of these bags are used by professional dancers at different international dance competitions, so it can be a disaster if suddenly any bag malfunction will happen. It's totally unacceptable, therefore all "pro bags" conform to very strict standards and high demands.
How to Choose a Dance Bag?
Dance Bags Classification
There are several methods to classify bags. First of all, they are compliant with standard bag types, e.g. Duffel bag, Athletic bag, backpack, suitcase, etc. Some types are more common for the professional dance bags; others are rarely used or even are not applicable because of their low profile or modest volume. For example, you won't find a Baguette Bag, Clutch Bag or Bucket bag made as professional dance bag. Of course, you can use such bags if you want, but in this case you should buy them from shops that sell standard casual brands. Besides, some models from the dedicated dance products line provide better appearance and look comparing to other models of the same brand, but at the same time they are usually less functional. So, it's up to you to decide which bag is more suitable for you: functional with classic "duffle" design, or more elegant or compact, but less useful as container for your dance gear. Or you may try to search for "balanced" models that are something in between these two categories.
We suggest to select a bag by answering to the question when and where you will use it? The answer defines what you will carry inside of it and helps to define approximately the minimum required size of the bag. Afterwards, you can choose the desired style and design among the suitable models.
The following brands are most famous and popular: Bloch (Australia), Freed of London (UK), Capezio (USA), Horizon Dance (USA), Wear Moi (UK), Danshuz (USA), Dansbagz (USA), Augusta (USA), Dream Duffel (USA), Holloway (USA), Sansha (France), Sassi (Japan), Under Armour (USA). Most of them operate all over the world and have online shops that deliver the purchase to any country.
Below are our recommendations and models for different use scenarios.
Dance Practice Bag
This type of bag is universal, usually of small or medium size. The purpose of this bag is to make your everyday life easier when you go to your dance school from home or office. There are no strict requirements for this bag, because its main purpose is to contain just a few necessary things – your practice dance dress, dance shoes, and may be have some extra space or pockets for some other things you may need, e.g. a bottle of water, napkin, hair brush, shoe-brush or shoe polishing cloth, etc. So, it's possible to choose a more compact or a little more spacious bag. If you carry only your personal belongings, then probably you will prefer to save the space to have a smaller and more lightweight bag. If are a parent, then you may consider to have some additional room inside the bag that can hold the dance wear and accessories of your kid. In this case you can use a single bag for you and your child when you go to the dance studio.
Because this dance bag contains just a few items, it's not so relevant if you wear a specialized or casual bag. The benefits of professional dance bags increase and become more vivid as the number of items you want to carry grows.
Usually every professional dance bag has a dedicated isolated section or pocket for dance shoes, so that you can quickly take them out. The main section is devoted to the dance practice dress. This section can have hard or rigid walls to prevent the dance wear being rumpled. Additional sections are designed for accessories: cosmetics, hair brush, keys, wallet, etc. Some models have compartments for iPhones and iPads with integrated soft case for better shock protection. The dance bag can be a tote, duffel, etc.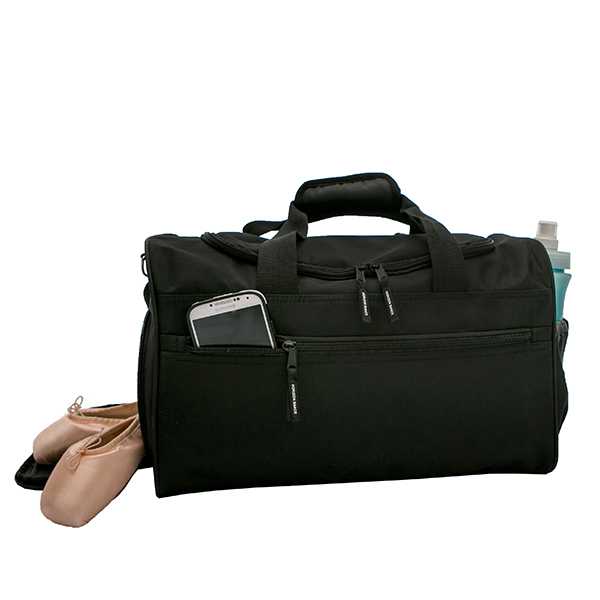 Dance Bag by Horizon with compartments for shoes and accessories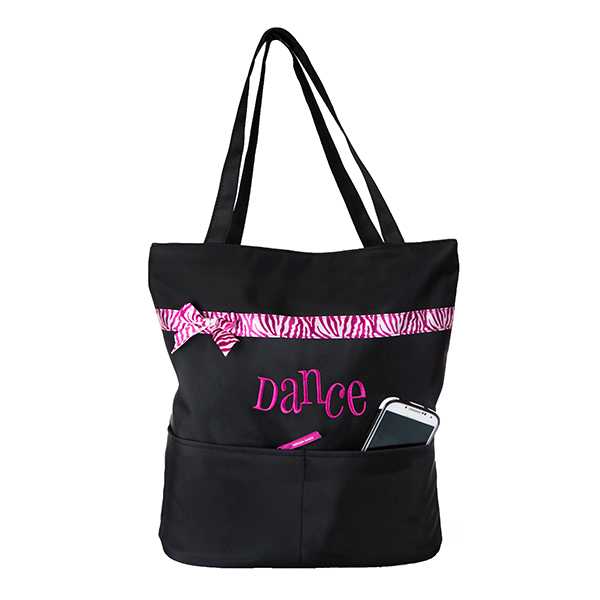 Horizon Tote Dance Bag
Female Horizon Dance Bag
Dance Mom Bag
Dance Bag by Bloch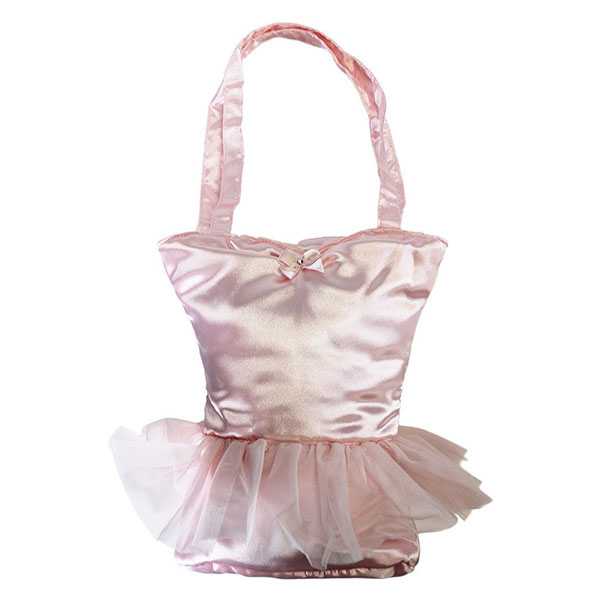 Satin Tutu Bag for kids by Bloch
Capezio Rose Dance Bag
Capezio Duffle Dance Bag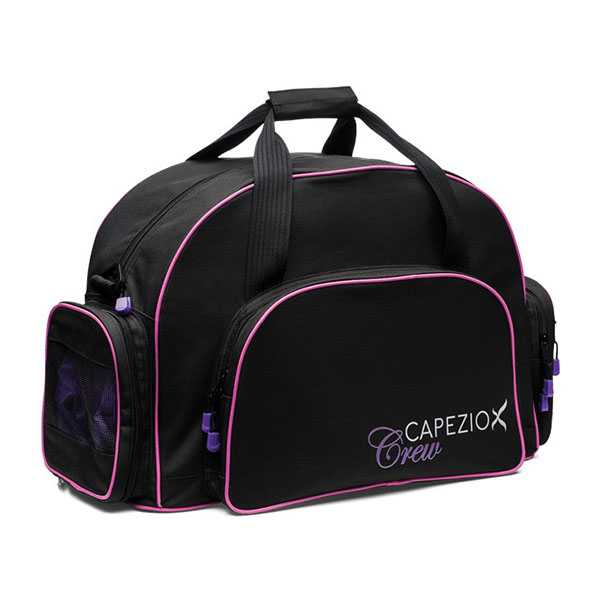 Capezio Dance Bag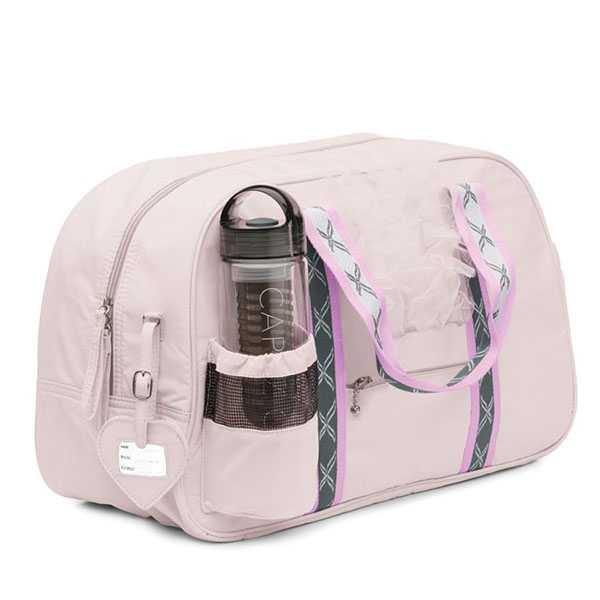 Capezio Female Dance Bag
Wear Moi Female Dance Bag
Dance Backpack
Freed of London Male Dance Bag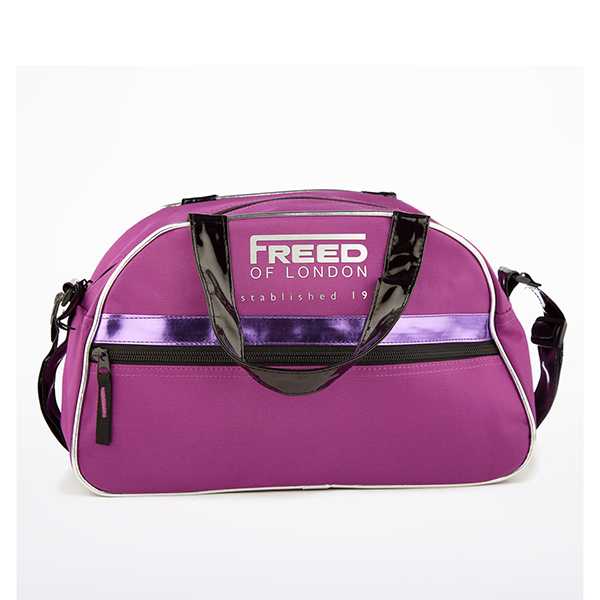 Freed of London Female Dance Bag
Some models of casual brands can be fine, e.g. this Royce Leather Duffel Bag
Some gym bags with shoes compartment can be used as men's dance bag
Dance Hand Luggage
If you plan a voyage, then you will probably feel the benefits of the professional dance bags. If you are a travelling dance teacher or a coach, or a dancer going to dance competition or championship, then you definitely need a practical and handy bag with emphasis on your dance belongings. It's important to have a safe and secure dance bag to minimize the dress being crumpled up and prevent troublesome accidents when fragile accessories can become damaged or even destroyed. Such troubles can spoil your mood and even negatively affect your dance performance.
Air flights being the most popular way of travel, define a set of rules for the luggage that you should take in mind when you choose a dance bag. The luggage is divided into two categories:
Hand luggage (also known as cabin baggage or carry-on) is allowed to be taken directly into the cabin by the passengers instead of putting it to the cargo compartment. Hand luggage is always with the passenger, so it avoids the risk of the baggage being lost or damaged. If you have hand luggage only, then you can save time, because you can arrive to the airport later after the "baggage drop-off" deadline. Besides, you can leave the destination airport earlier, because you don't need to wait for the checked baggage at the carousels of the baggage reclaim area.
Checked baggage is moved to the cargo compartment of the airplane. This area is separated from the cabin and passengers don't have access to this baggage until the flight is over.
This image shows standard luggage limits. Each airline company may have its own slightly different rules.
Every airline company has its own rules for the baggage that may also depend on the travel class of the ticket, e.g. business class passengers are usually allowed to carry more baggage than economy class passengers. Generally, a hand luggage can have a maximum weight of 6 kg and maximum dimensions 56 cm (length) x 45 cm (width) x 25 cm (depth). Besides, security policies that become stricter and stricter each year, define a set of items that are not allowed to be carried into the cabin. For example, nail care items and scissors, liquids (including gels, lotions, lip sticks, deodorants, perfumes) greater than 100ml or without proper assembling in a transparent zippable plastic bag are not allowed. Such limitations and difficulties for hand luggage usually force people to use checked baggage. In this case it can be a good idea to have only one professional dance bag. It can be either a bag that you will take with you into the cabin, or most likely it will be a bigger professional dance suitcase used as check baggage.
Dance Hand Luggage can usually look like a sport bag (see the dance practice bags we mentioned earlier) or it can be a small suitcase. In any case when you buy such bag look for a special label or badge that shows it's certified for the standard hand luggage size. Suitcases have the following benefits:
Easier handling. Wheels help to move the suitcase easily by rolling it without carrying the weight on your hands. The more wheels – the better: suitcases with 4 wheels have more flexibility and freedom of movement.
Greater safety. Suitcases have rigid body and secure the contents from deformations that may happen from outside.
Besides, suitcases have the same dedicated sections for shoes, main section for dance wear, etc. However, the internal design of the suitcases usually makes them applicable only for male shoes and are not suitable for women shoes with high heels.
Dance XXL Suitcases and Bags
Large dance suitcases because of their serious size, offer the bag designers and engineers opportunity to implement all their ideas and dreams making a perfect dance suitcase. Such suitcases are real masterpieces that have different wonderful features and secrets. Even amateur dancers can instantly feel how good and comfortable they are from the first glance. If you see such suitcase in a shop, it's impossible to resist buying it! Below we will show some models that we find most attractive.
The most popular and premium type of bags is "rack bags" or "rack suitcases". The distinguished feature of this bag is the built-in foldable garments rack. This rack is extremely important. It allows to quickly prepare your wardrobe by simply mounting and unpacking the bag. Such approach allows you to see all your dresses easily, choose the right one, and change your clothes faster. Participants of many dance competitions usually need several dress sets for different dances. The dress code is different between Ballroom International Standard and Latin Programs (read more about dress code for women and men). Besides, it's a common practice to have a unique outfit for each dance in every program. Each costume may have different shoes, tights, hair pieces, under garments, props and cosmetics. Often all of this is jammed into an undersized suitcase designed for a weekend getaway. It's a lot to keep track of - even for extremely organized people. Plus, dancers often have just a few minutes to remove one costume, put it away and change into another one. Most rack bags can hold from 10 to 15 dance dress sets and all of them fit into the rack for better comfort and usability. There are also junior models designed to hold between 1 – 4 costumes. Many bag models have additional accessories that extend the functionality of the bag. For example, the following extra items are available: folding chair, folding full-length mirror, special suitcase or box for cosmetics, protective covers for the dress (gown covers), etc.
All the XXL bags have wheels that allow to roll it easily. One of the most popular brands are the Pack 2 Rack, Rack N Roll, Grit.
The success of the rack bags makes them popular also for performers of dance shows, models of photo shoot sessions, and even trendy travelers that enjoy carrying all their apparel with them.
All big dance bags have wheels and a handle for rolling.
A good XXL dance bag must have a built-in gourments rack.
Model "Alyssa", the largest bag of the "Costume Roller".
Model "Tanika" by "Costume Roller".
Pack2Rack dance bag is one of the most popular.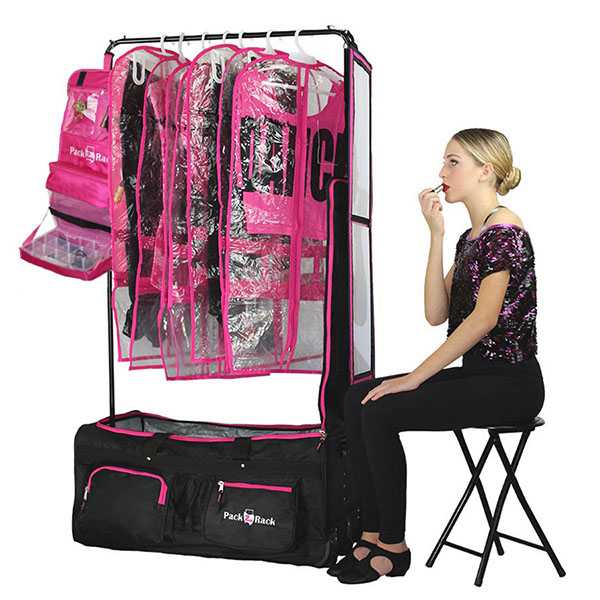 Pack2Rack has lots of optional accessories: folding full-height mirror, folding chair, etc.
Pack2Rack Gourments Rack Setup
Pack2Rack Gourments Rack Setup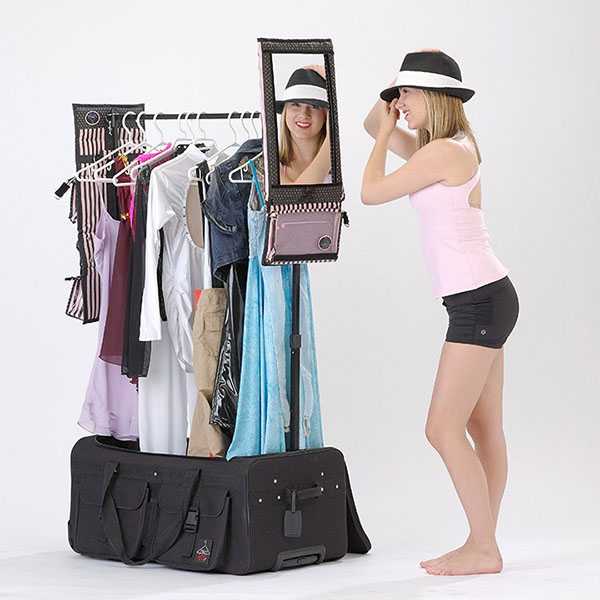 Rack N Roll is another brand for professional large dance bags.
Inside the Rack N Roll dance bag.
Model "Dance Tower" by "Grit".
The Dance Tower differs from other bags by its vertical design.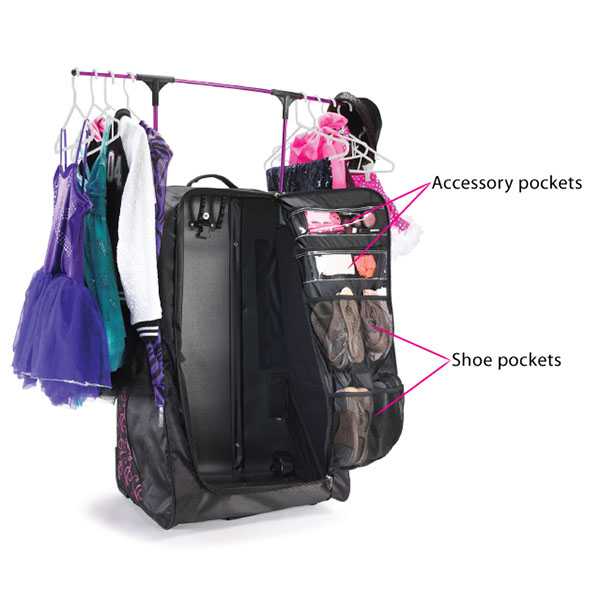 It also has a rack, dedicated compartments for shoes and accessories.
ShelfPack was developed in 2015. It's not positioned as a dance suitcase, but it's worth mentioning. It has a unique structure with integrated shelves that allows to achieve efficient packing and easy unpacking. The shelves make your gear easier to see and get.
ShelfPack suitcase has bulit in shelves for easy unpacking.
Dance Club Bag
Club bags are intended to be taken to dance parties, dance clubs and evenings, or some other dancing occasions, such as wedding dance party. Actually, there are no professional dance club bags, but we will share some important recommendations with you. When you plan to go to a dance party, usually you are already dressed up in a dance wear. So, you don't need to pack and take the dance clothes with you. If you plan to dance on professional or sprung dance floor, it's usually obligatory to take your dance shoes with you (don't dance in your casual shoes). In this case you can take the shoes in a plastic bag and take just a small wristlet or a sling bag (purse) with you. Or you can take your favorite larger stylish Louis Vuitton bag that can hold your dance shoes. Shoes container can help to protect the bag. Besides, special shoe bags are available (more information below in the accessories section).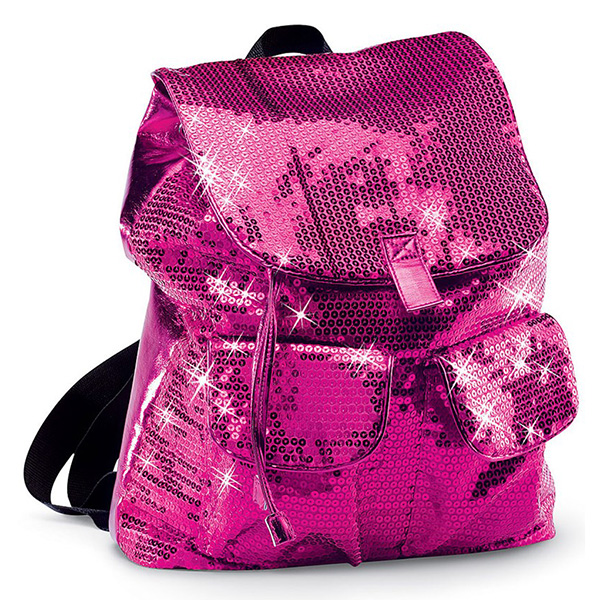 Shiny Dance Backpack by Urban Groove
"Wear Moi" brand offers many stylish models.
Dance Tote Bag by Wear Moi
Black Dance Leather Bag by Wear Moi
Rose tulle mesh dance backpack by Wear Moi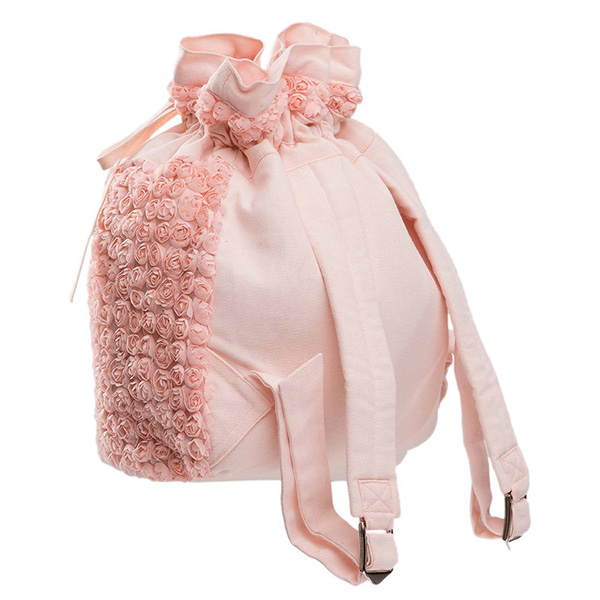 Rose tulle mesh dance backpack by Wear Moi
Special Dance Bags Accessories
This mesh shoe bag is perfect for storing shoes after dance class, performances or competition. Mesh material provides ventilation and allows shoes to breathe after use. The bag may look compact but it's very roomy and can hold even most high-heeled or bulky ballroom dance shoes.
Shoe boxes or cases are alternatives to bags. They can have zip or Velcro, additional pockets for accessories. Some of the boxes and bags may have a nice looking design and are suitable for direct use without necessity to pack them inside some other spruce bag. Therefore, they can be used as most compact bags for dance clubs and parties, when you need to carry just your dance shoes and a few accessories.
The simplest shoes bag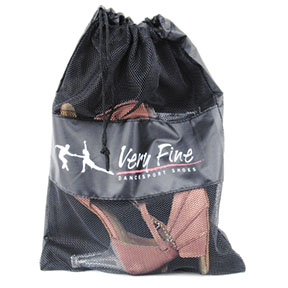 Mesh bag with ventilation is better
Shoes bag with wrist strap, zip, and compartments for small accessories
Canvas shoes bag with shoulder strap
Shoes container bag
Female dance shoes bag with stripe and external pockets
Some sports bags for gym shoes and snickers are also suitable for dance shoes
Other articles you may like: