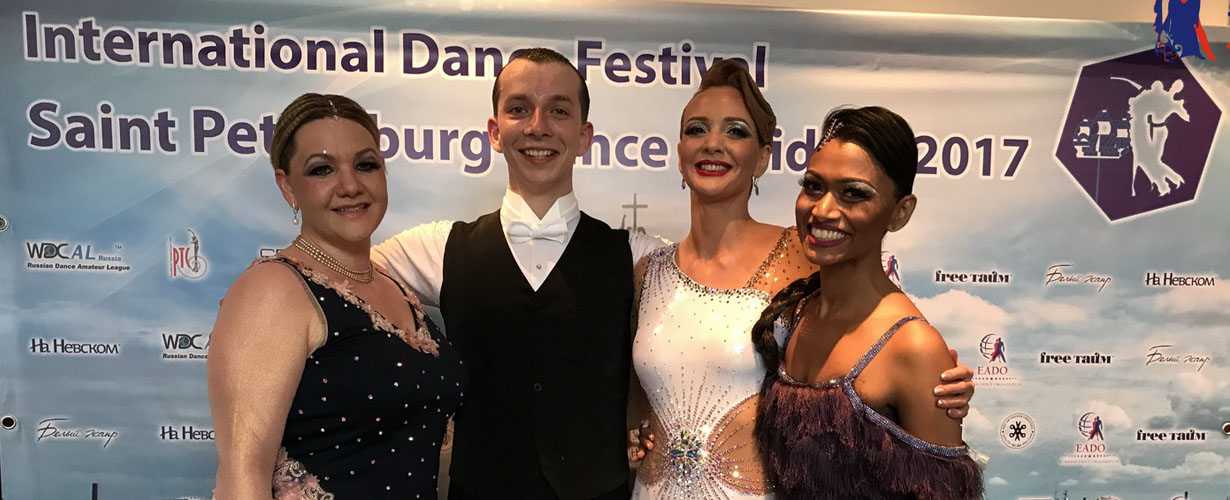 Saint Petersburg Dance Holidays 2017
The story of our trip to Russia where the "Dance For You" studio participated in Saint Petersburg Dance Holidays 2017, the Pro/Am dance competition, 25-27th of August, 2017.
Summer time is widely acknowledged to be a time of long sunny days, highly-anticipated summer trips, journeys and of course holidays. People tend to have a break, to get distracted from everything and simply enjoy life somewhere next to the seaside.
We always knew that members of our big dancing community are the special ones. However, this time they turned out to be even more unique than someone can ever be. It's all due to the fact that their summer holidays winded up being the most exciting and unforgettable ones, The Dance Holidays in Saint Petersburg.
Saint Petersburg dance competition has greeted our dearest students for the second time already. The same place, the same time, the same outstanding "Dance For You" team. There definitely should be something out there if they want to come back there over and over again, shouldn't it?!
Our dearest and valuable students got so much excitement and joy not only from dancing per se but also from the incredible results they've achieved. Top prize places are now they greatest achievements of them. To be honest we didn't even doubt it but being internationally recognized is totally worth of mentioning. All fun and passion for dancing has been revealed on the international dance floor in Saint Petersburg the past weekend. Besides, Intercontinental Eurasian Cup has granted our talented students with the 5th place which is also pretty good if we take into consideration all the competition they had to "survive".
Sergii and Ute perform Viennese Waltz.
Sergii and Ute perform Quickstep.
Pavel and Ann - Pasodoble dance.
Sergii and Kellie - Foxtrot dance.
Anyway, perfection knows no limits, neither the passion for dancing, the strive of our students to constantly learn something new. Dance For You team is so much happy and grateful to teach them, to make progress with them and simply to dance and enjoy life through dancing with them. From all our hearts we thank you all: Ute, Kellie and Ann.
We are so much excited about the upcoming dance competitions as well. Pro-Am dance competition gives you not only a chance to dance and see your dancing skills on the international level but surely travel and meet lots and lots of new people.
Meanwhile, we invite all newcomers to our dance studio. If you are still thinking about whether to start dancing or not just go for it with us, you will surely like it. The First individual trial dance class is a perfect start. You shouldn't deprive yourself from all of that fun and who knows, next time you might be among our incredible dance team, Dance For you team!