TOP 10 Best Dance Movies
In this article we gathered the best dance movies according to various ratings, awards and critics reviews. It's difficult to rate these movies between each other, because all of them are unique masterpiece and enjoyable to watch. So, we put them in the list in historical order of appearance.
Swing Time (1936)
Swing Time Poster.
The roots of the dance movies definitely come from Fred Astaire – American dancer, singer, actor, choreographer and television presenter. Gene Kelly, another major innovator in filmed dance, said that "the history of dance on film begins with Astaire". Fred Astaire performed on screen with his dance partner Ginger Rogers. Together they played in several dance movies and Swing Time is one of them. Even though all the movies are black-and-white, they are not outdated and are still worth watching. Besides, old movies have some special atmosphere and are really different from what modern film-making companies produce nowadays.
Grease (1978) and Grease 2 (1982)
Grease (1978).
Grease 2 (1982).
Greasers are a working-class youth subculture that was popularized in the late 1940s and 1950s. The name "greaser" came from their greased-back hairstyle, which involved combing back hair using creams, tonics or pomade. The original Grease with young John Travolta and Olivia Newton-John was very popular and made them famous as movie stars. The movie is considered by many critics as one of the best films of 1978. In 2008, the film was selected by Empire magazine as one of The 500 Greatest Movies of All Time. The song "You're the One That I Want" became the most recognizable scene of the movie. The sequel for Grease was filmed in 1982. Even though, it had good actors, plot and well-choreographed dance sequences, it couldn't reach the same level of popularity and acknowledgment as the original movie.
The original scene "You're the One That I Want" from the Grease.
24 years later: Olivia Newton-John & John Travolta sing 'You're the One That I Want" at the 2002 Grease DVD Release Party.
Footlose (1984/2011)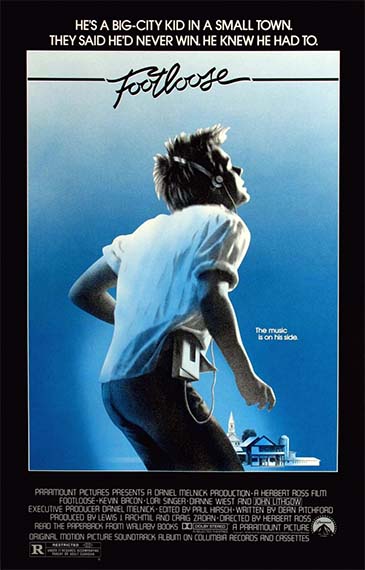 Footlose (1984).
Footlose (2011).
Footlose is a story about freedom and fight for the rights to dance. Ren McCormack (Kevin Bacon), an upbeat Chicago teen who moves to a small town in which, as a result of the efforts of a local minister, dancing and rock music have been banned.
Footlose (1984) Final Dance Scene.
Footlose (2011) Final Dance Scene.
Dirty Dancing (1987) and Dirty Dancing 2: Havana Nights (2004)
Dirty Dancing (1987).
Dirty Dancing 2: Havana Nights (2004).
Dirty Dancing is a romantic drama film with Patrick Swayze and Jennifer Grey as key actors. Patrick as a dance teacher prepares Jennifer for the end-of-season talent show where he supposed to act as her Pro/Am partner. However, apart from dance classes, the plot is full of drama and romantic moments. The movie is very emotional and won Academy Award for Best Original Song, Golden Globe and Grammy Awards. Some people may consider the term "dirty dancing" is related to dances which have erotic and sexy dance figures and moves. However, the movie is not vulgar and the dances are sensual. The word "dirty" is related to the drama part of the movie, which shows that the life of a dance teacher is not as romantic and pleasant as it may seem. The great popularity of the original movie gave birth to the prequel "Dirty Dancing 2: Havana Nights" filmed in 2004. However, the critics gave negative reviews to it as unnecessary remake. But if you don't compare it with the original version, it's a good dance movie to watch.
Dirty Dancing - Time of my Life (Final Dance).
Dirty Dancing Havana Nights.
Strictly Ballroom (1992)
Strictly Ballroom Poster.
Strictly Ballroom Trailer.
Strictly Ballroom tells the story of an Australian ballroom dancer, Scott Hastings (Paul Mercurio), and his struggle to establish his personal style of dance on his way to win the Pan-Pacific Grand Prix Dancing Championship. Scott's steps are not strictly ballroom. Scott comes from a family with a history of ballroom dancing and has been training since childhood.
Chicago (2002)
Strictly Ballroom Poster.
Chicago is American musical comedy crime legal drama based on the musical of the same name, exploring the themes of celebrity, scandal, and corruption in Chicago during the Jazz Age. Starring Renée Zellweger, Catherine Zeta-Jones and Richard Gere the film received successful critical responses and won many awards: 6 Academy Awards, 2 BAFTA Awards, 3 Golden Globes and 15 others. Being so successful, the movie is widely considered to be responsible for the re-emergence of the musical film genre in the 21st century.
Shall We Dance? (2004)
Shall We Dance? Poster.
Shall We Dance? Movie Trailer.
It is a 2004 American romantic comedy that is a remake of the award-winning 1996 Japanese film of the same name. This is a story about love and how dance can change your life. Taking dance classes is never late, and John Clark (Richard Gere) proves that. He meets a charming dance instructor Paulina (Jennifer Lopez) that he falls in love and decides to take the dance classes at her studio. The final test is the participation in the Blackpool – most famous dance competition in the world. The movie is very passionate and emotional, and the actors show a great play.
Take the Lead (2006)
Take the Lead Poster.
Take the Lead is a 2006 drama dance film starring handsome Antonio Banderas as ballroom dance instructor in New York school. His students, mainly hooligans, prefer hip-hop rather than classical dances. He tries to share their interest in hip hop in order to draw attention to ballroom dancing and get acknowledgment from the students. Finally, together they create a new dance style and participate in annual ballroom dancing competition.
Step Up (2006), Step Up 2: The Streets (2008), Step Up 3D (2010), Step Up Revolution (2012), Step Up: All In (2014)

Step Up is the most popular modern dance sequel. Started at 2006, it contains 5 movies and definitely new films will appear soon. In sequels it's very difficult to create new unique movies that will be as successful and fresh as previous and will be appreciated by the audience. The Step Up is a rare case when every new film is unique and worth watching. In each film the choreographers try to mix different dances: ballet, Waltz, Salsa, Tango and other ballroom dances with street dances. You can see different dance practice trainings, performance and dance shows, and dance battles. But each scene is breathtaking and can be considered as a dance stunt with amazing choreography, brilliant ideas and great talented dancers. The special effects are appropriate and in its place, and work of the cameraman is fascinating. The latest films are in 3D format and it adds the presence effect, so you can feel like you in the center of the action. The 3D is of very high quality and brings an enthralling sight and spectacular entertainment.
Step Up Trailer.
Step Up 2 Trailer.
Step Up 3D Trailer.
Step Up Revolution Trailer.
Street Dance 3D (2010) and Street Dance 2 (2013)
Street Dance 3D (2010).
Street Dance 2 (2013).
A street dance team faces serious troubles: their leader leaves the group unexpectedly and besides they lose their rehearsal space. Such unfortunate coincidence almost leads to breaking up, but the crew tries to figure it out by raising money and practicing in other locations. Eventually they find a space in a ballet school, on the condition that they include five ballet dancers in their routine. At first, they struggle to get along, but they all become friends in the end and struggle to win the streetdancing finals. The movie shows differences between the ballet and street dances, various dance figures and styles. Mixing together classical and street dances gives unexpected stunning results. The Street Dance 2 is a story of how to beat the best dance crew. It starts with just idea, and then all the necessary steps are carried out: searching the right members to create a dance team, mixing various dance moves to achieve the best results (this time it was Latin dances and street dances), practicing, etc. The film proves an idea that it's possible to achieve even the most difficult aims if you have the desire and belief in oneself.
Street Dance 3D (2010) Trailer.
Street Dance 2 (2013) Trailer.
Do it like in movies: our Dance School welcomes you!
Dancing is always beautiful and available for study at any age. We have a professional team of dance instructors, choreographers and teachers that provide dance lessons for the desired dance level (beginner, intermediate, advanced or expert) of dancing and to accomplish your aims. Apart from giving dance classes for adults and couples, we have special adapted dance courses for children and mixed parents and kids lessons. You can find a full range of available dances that we provide here. Please, contact us and we will answer your questions, give you advice and further necessary information!