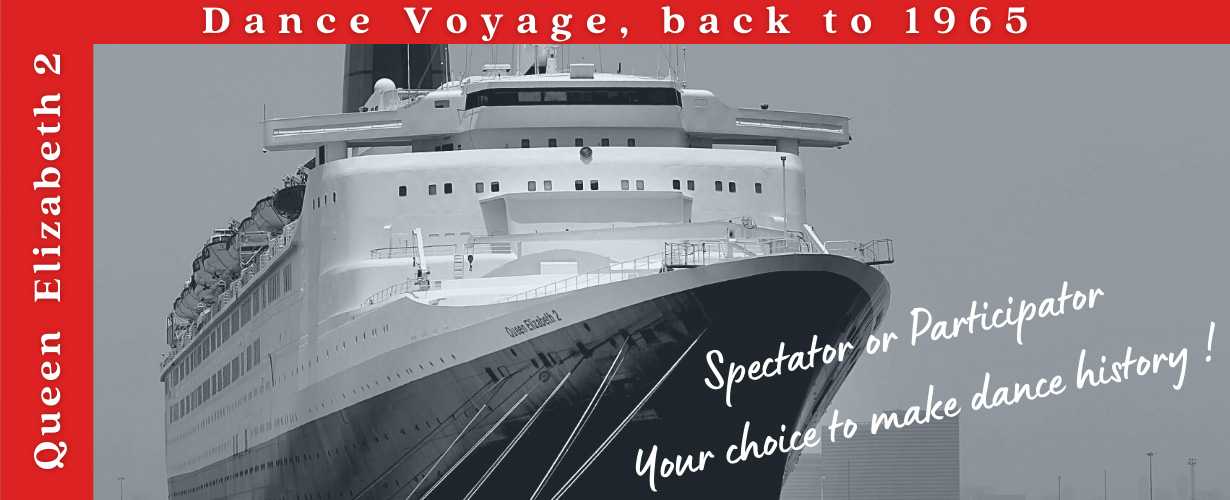 Dance Cruise 2023 becoming a history-making Ballroom event, are you with us?!
Spectator or Participator…You are the one to choose…But being a part of a historical event such as Ballroom Dancing Party within the exquisite premises of QE2 has been obviously destined for you, what do you think?! Otherwise we believe you wouldn't have imagined yourself at least for a fraction of a second in the most elegant attire, wearing the most polished shoes, making the most refined dance moves to the "atmospheric" tunes… Wow, what an event to come… and what on earth is there to stop you?!
Dance For You team is over the moon now to announce that everything, literally everything, is prepared to let all of us not only dip our toes into the fanciest Ballroom event of the 21st century but surely dig deeper into the epoch-making moments where Balls used to be inseparable from High Society amusements. Reading it in the literature books, watching it in the movies, hearing the adventures from strangers – that's all one story, entertaining but still. What about living it through, you yourself, have you ever imagined that?! Letting "the heritage" run through one's veins… metaphorically this time… or is it?!
Did you know that the UK generously granted the UAE with Authentic QE2 masterpiece?! Moreover, do you know this very Legend is remarkably older than its new place of residence?! Isn't that a marvel?! How many sights are there in the UAE one may find that are surprisingly older than the emirates themselves?! And with Fabulous Dance Cruise 2023 you won't only visit this tremendous Liner, get to know the stories from the past but write a brand new chapter of the Ballroom history. "How is it so?" – One may wonder. Well, we are more than happy to accompany you in such a fantastic "dancing" adventure.
What meets the eye in the first place when it comes to a decision whether go for it or not?! The name, that's right! Well, a unique dance story we are about to create together will be under the name "Bon Voyage". Why?! Simply because for a day in January 2023 our talented dancing community is going to "be relocated" in time and space, in century and mood, saying Goodbye to a modern life, temporarily of course. The premises per se of Queen Elizabeth 2 are literally calling everyone to breath in that vintage aroma, to be lost in that charming atmosphere where Balls would be history-making events! It simply wouldn't do without them, at all. Isn't that a perfect reason to put on the nicest dress or tuxedo, to mingle with the like-minded people, who also get aboard to let their dancing creativity go wild!
Ballroom theme event… Ball… who would ever believe nowadays that's such an old-fashioned but definitely much desired experience is almost right behind the corner. Would you?! We definitely would! It's totally tangible, captivating and enjoyable. Especially when there are certain people among us. Like a mysterious "chain" between the past and the present they pave the way for the unpredictable future, adding spectacular touches to the event itself. Any ideas who that can be?! We are not going to tire our dearest readers anymore. A special guest of the upcoming, one-of-a-kind, history-making Ballroom dancing event is an unbelievable crew member of QE2. Don't you think it's huge?!
Admit it, you don't want to miss an opportunity to touch upon the legend, a British Ocean Liner, Queen Elizabeth 2. You don't want to miss out on a chance to be a top-notch "author" of the dance story "Bon Voyage". History luckily repeats itself but in a what way…like never before, your quill is waiting, go for it and you won't regret it, mark our words.