Gala Evening 2016: Let's Party at Dance Studio in Dubai!
Summer is coming, it's getting hot and sultry! And it's the best time to focus on the one of the best indoor activity in the World – Dancing! Our ballroom is not influenced by the weather – it always is a perfect place, where you can feel yourself comfortable and highly welcomed! And the heat outside is also a nice reason to take a small break from the everyday routine, have some new experience and to summarize the results you've achieved this year!
How important is it - to receive benefits from a hard and intensive work? When you put your soul in what you do and involve with a fully opened heart, you always get not only achievements as a feedback, but also happiness, satisfaction and joy!
It's such a great pleasure for us to see our students' results growing up. We're are so proud to lead them to their dancing dreams and successes! Some of them had started earlier, some had joined our dance lessons later, but they all are amazing – and they're ready to prove that for sure!
We are so proud that our Dance For You family has its own traditions, and one of them - the most exciting, probably - is to meet together every month! But this time it will be something very special, something which can impress you and change your attitude about dancing forever!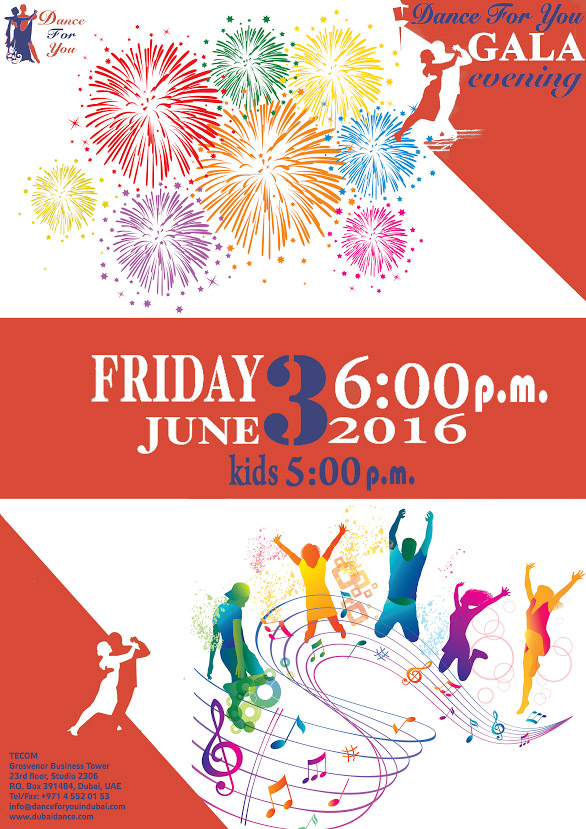 Who Can Join?
Dear Dance For You family members – current and future – are very pleased to invite everyone to celebrate the Gala Evening and share the competitive successes of Dance For You Studio in Dubai! It will be a great pleasure to see you at our studio this evening, which is expected to be full of the dancing, joy and excitement! This is an open event and we invite everybody! Even if you are not a student of our dance school, we will be glad to see you and of course you can (and should) bring your companion and friends! Besides, we have a special sub event for kids, too! So that children will have their own party and won't be bored with the adults. By the way, the gala evening is a great opportunity to try the biggest professional sprung dance floor in Dubai, meet our dance teachers and dance instructors, and take a closer look at our dance studio!
A Dance Party or a Dance Show? What to Expect?
It's not just a disco party at a dance club, or a dance show, it's something bigger! You will have a chance to enjoy wonderful showcases from our professional dance instructors and our brilliant students, to attend the dance master class, to meet new, wonderful and interesting people, practice the Ballroom, Latin-American and Social dances with our coaches and other students, to take part in the award section with trophies and presents and to have fun and a perfect spirit during all the evening! And all this will be provided with a perfect atmosphere, drinks, snacks, a zone to take a breath between dances – and surely – the best mood of every member of this evening!
This event will be full of surprises, and to make you more curious about that and to open the mystery a little, we are proud to announce some of the features waiting for you this evening!
One of the most important details straightaway: Live Cuban Band straight from Cuba will play the most popular tracks from Latin and Ballroom dances on the Gala Evening especially for YOU, especially for all the Dance For You Family! So be sure – the atmosphere will be really outstanding, playful and unforgettable!
The Date & Time
The event starts on Friday, 3rd of June, 2016.
We invite kids to our dance studio at 5 p.m.
Adults are welcome at 6 p.m.
The Location and Contacts
The Gala Evening takes place at the Dance For You studio, Dubai. The address is: TECOM, Grosvenor Business Tower, 23rd floor, Studio 2306. Please, have a look at the map below this page, that will help you to navigate, or you may save it on your gadget or print.
How to Attend? (Booking and Reservation Required!)
How much you are ready to invest in happiness? For sure, it's something which you can never buy, but there's still some chance to become more free and joyful not demanding much, because all of this amazing experience and a perfect time is waiting for you!
Please confirm your attendance and how many friends you want to take with you, and we'll reserve the tickets for you! Call us now 04 552 01 53 or fill in the contact form below to make the booking!
And don't forget to bring your dance shoes! We will be looking forward to see you there and enjoy time together! Wish you the best spirits!
Other articles you may like: