Dance For You at Dubai International Dance Festival 2015
The DIDF (Dubai International Dance Festival) is a major event dedicated to dance and music in UAE. After summer heat, from 14th till 21st of September - a whole week offered miscellaneous activities to the audience: professional dance shows and performances, workshops, group dance classes from top dance schools all over the world, and of course the opportunity just to relax and move on the dance floor. The dance list tried to satisfy different tastes and included Salsa, Cha Cha Cha, Cuban, Hip Hop, Jazz, Tango, African Dance, Bachata, Belly Dancing, Bollywood, Bachata, Zumba fitness, traditional Sri Lankan, Kizomba, Capoeira and much more.
The Festival
The program started in the morning and ended late at night around 3 a.m. Each day was unique and took place in a different location: Ibis World Trade Center Hotel, Pacha Ibiza Madinat Jumeirah, Dubai Marine Beach Resort & Spa and Jebel Ali Beach Hotel. The best DJs warmed up the public and passed their energy and passion to the audience. Besides the intensive dance shows and parties, there was a large shopping area for dance accessories and beach fun activities. The Dubai Dance Awards was a part of the festival, where you could find out the people who gave the most contribution into the art of dance.
Learn new dance moves
The workshops aimed to improve dance skills and was going for 3 days in the facilities of Jebel Ali Beach Resort & Spa. Each dance lesson was marked with its difficulty level and dance experience required to attend: beginners, improved, intermediate and advanced. Besides, some workshops were available for all levels and open for everybody. The workshops went in parallel 4-5 sessions, so sometimes it was difficult to make a choice where to go. All of them were worth visiting.
The Ballroom dance shows by the Dance For You
The organizers chose dance schools according to their applications to allow them doing a dance performance at the festival. Our dance studio made two performances where we showed our main educational directions of Latin-American ballroom dancing: couple dance classes and kids dance lessons. The first performance was a duet made solely by our professional dance teachers. Another one included kids dancing by our young up-and-coming students. Both performances were highly appreciated by the audience and had a warm positive feedback!
The adult team: Martina and Ruslan.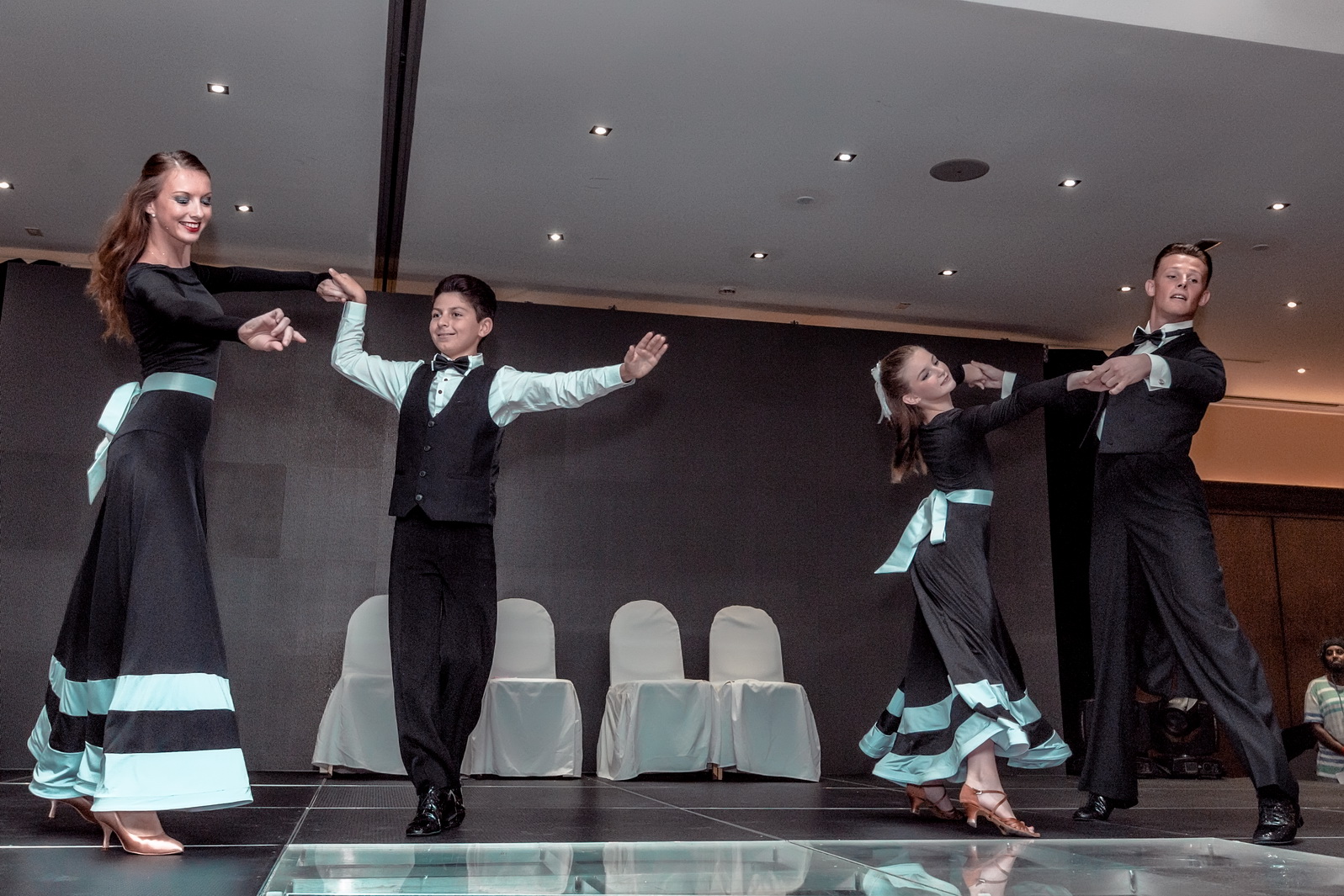 Our kids dancing team: Jad and Tulip with our dance school instructors – Martina and Konstantin.
The festival is over, however, the dance life in Dubai continues! There's a lot of time before the next Dubai International Dance Festival 2016. It's the right time for practice and ballroom dance lessons! We are glad to see you at our dance studio, where you can join couple dance classes, group dance lessons, have private dance lessons with our dance teachers and choreographers, or just visit our practice sessions and open parties! You are always welcome!